We provide holistic and comprehensive Neurofeedback services.
What is Neurofeedback?
Neurofeedback is a noninvasive procedure that assists in building or rebuilding neural pathways, thus allowing the client to have healthier brain functioning and thereby, a healthier life.
To do this, wires and sensors are placed on the scalp and ears, and individuals are connected to a computer allowing our technology to monitor brainwave activity. During your session, you will be introduced to a stimuli, most often a movie or video. The software then automatically detects when the brainwaves are regulated and feeds this information back to the patient in real time. The feedback tells you to produce more or less of certain types of necessary brainwaves, encouraging your brain to behave in a certain way. When the brainwaves are dysregulated, the software interferes with the video. The brain naturally alters its activity and is rewarded with clear image and sound when well regulated.
What can Neurofeedback treat?
Neurofeedback is used to treat the following conditions: ADHD, ADD, Trauma, PTSD, Depression, Traumatic Brain Injury (TBI), Anxiety, Sleep, Stress and to enhance performance, both physically and mentally.
What makes our approach different?
We use a qEEG to guide neurotherapy. Quantitative EEG (qEEG), also called "Brain Mapping," is an extension of the analysis of the visual EEG interpretation, which may assist and even augment our understanding of the EEG and brain function. Brain mapping identifies the brain waves and locations in the brain where dysregulation (dysfunction) are present.
There are four divisions of electrical impulses made by our brain, Delta, Theta, Alpha and Beta that are called "Frequency Bands". These Frequency Bands tell us which parts of your brain are active and which frequency bands the brain should be using to complete a given task, activity or should be most active during different states of mind.
Using a qEEG is essential to tailoring a therapy approach specific to the patient. The qEEG data is used by our team of clinicians, a Neurologist, and an Electroencephalographer to assess where dysregulation is present in the brain. We are then able to compare your symptoms to the findings in the reports, allowing us to treat you instead of just your symptoms. Without the use of a qEEG, neurotherapists set treatment protocols by simply guessing what areas might be dysregulated. Though symptoms and disorders are often correlated to dysregulation in specific brain sites, this may not be the case for you.
We like to use a multidisciplinary approach and are happy to work with your provider in order to offer the most effective treatment possible. Not everyone in the field of neurotherapy use qEEG to guide neurotherapy, however, we see that it helps eliminate the guesswork on selecting the sites for neurotherapy.
Our Process
First you would come in for the qEEG/ brain mapping to help select the sites for neurotherapy. After the qEEG report comes in, neurofeedback sessions can begin. The industry standard for neurofeedback is a minimum of 40 sessions, with at least two per week. Each neurofeedback session is 35 minutes, but most clients prefer to do double sessions which would be 70 minutes. After your 20th session, we like to do a mini qEEG to make sure the neurofeedback is working and we see improvements. After the 40th session, we will assess to see if neurofeedback should be completed or if more sessions are needed.
Dr. Swatzyna provides our qEEG and Neurofeedback treatments. Please click on his name for more information or call (713) 283-2548 to schedule an appointment.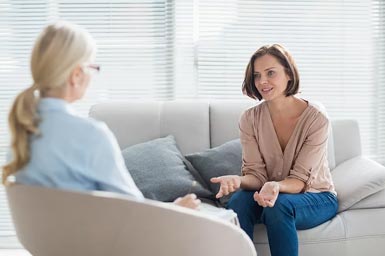 If you are interested in learning more about EMDR or if you are a good candidate for this approach, feel free to contact us at (713) 283-2548 for additional information. Renee Trimble is level II trained in EMDR. Additional information can be found under "Meet Our Team".